Rehabilitation Campaign: VA and FHA
Today's market is showing, the massive need to renovate and rehabilitate homes on this lovely island. This is due to the lack of completed and new inventory. Norcom is offering additional financing for qualified buyers. The ability to be approved up to an additional $50,000 in financing has become an option. This is to help you give that facelift, your Dream home needs, while still allowing you to purchase the home you are seeking. Rehabilitation starts after closing and must be completed within 6 months to be qualified. Norcom is doing prequalification with the additional repair amount to assist those customers looking to renew some of the properties in Guam.
So Property Shop has decided to help you along with Norcom. Become a client of Property Shop within the allotted timeframe, we will cover your portion of the Escrow Fees! We are wanting to assist you with getting you that perfect home! It is a necessary fee in all sales transactions, but we want to help you cover that cost! This is a once-in-a-lifetime opportunity, so let us make a great decision to work together!
Click HERE for the Escrow Campaign.
Qualifications:
Timeframe of 05/31/21-08/31/21.
600 minimum credit score
Owner Occupied for Buyers
Eligible Properties: Single-family, townhomes, and VA approved Condos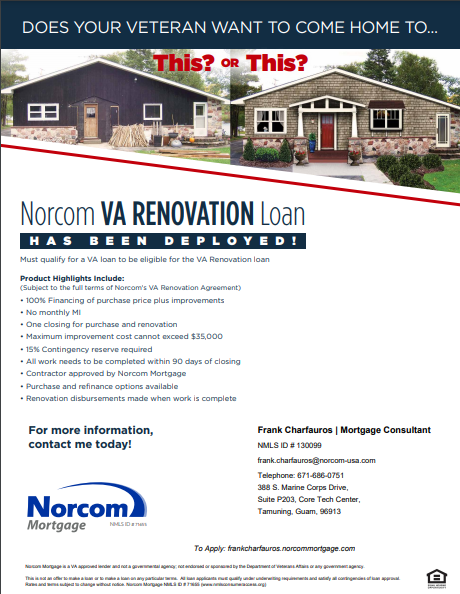 Speak to Property Shop and Its agents to get started today!